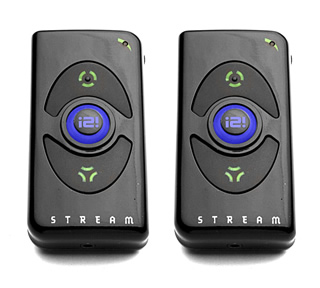 The i2i Stream was one of the more interesting products I saw this year at CES. Many competing products use Bluetooth's A2DP profile for their wireless audio, including the Kyocera Wireless Music Gateway, RIM BlackBerry Bluetooth Music Gateway, and Nokia A2DP Bluetooth Gateway. Most of them work quite well.
Aerielle takes a different approach with its i2i Stream product. When you open the two-module pack, you may wonder which is the transmitter and which is the receiver. It doesn't matter. They're identical, and you can add additional modules to receive the same signal.
You can also configure the modules for multiple streams, and that's where this product becomes more versatile than the current products that use A2DP. Any i2i Stream transmitting module can stream to any i2i Stream receiving module. Simply press the lit channel-button in the center until the color matches between the transmitting and receiving units. It's that simple.
The i2i Stream does have an annoying feature that I hope is fixed in the future. The linked modules continue to display the linked color, even after you've paired them. That isn't so bad. The problem is the transmitting unit flashes continuously. If you're in a darkened room, you'll probably want to cover it with something.
The modules also automatically turn off after a few minutes of silence, which means if you mute the sound during a commercial break, you'll have to turn on the units again when the program resumes (best to avoid using the mute).
Otherwise, the modules worked fine. You can expect about 5 to 7 hours from a USB-power charge. I had no problem transmitting well over 30 feet. The audio quality was very good with no static or dropouts, even though the i2i Stream communicates on the sometimes congested 2.4 GHz band.
Google+