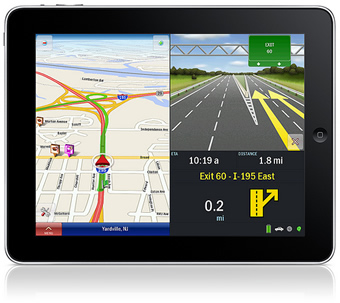 If you own the 3G version of the iPad, you already have the hardware for a first-class GPS navigator. The large touchscreen, built-in GPS, and instant-on capability are just waiting for the ideal turn-by-turn navigation app.
ALK Technologies' CoPilot Live HD North America comes pretty close to fitting the bill for anyone who doesn't have to depend absolutely on GPS navigation, such as an ambulance driver or police officer. While CoPilot Live HD does have its limitations, you would be hard pressed to find a better value given its rich set of features.
You do need to have the 3G version of the iPad in order to run CoPilot Live HD. The program takes up a considerable amount of space (1.34 gigabytes) to store all the needed maps, street names, and points of interest for North America. So why can't you use the Wi-Fi version if the maps are preloaded? Only the 3G version has the GPS chip, and without the GPS chip, the iPad wouldn't know where to place you on the map.
Because the maps are stored locally, and not downloaded on the fly, the onscreen views update smoothly as you travel by car. When driving alone, and unable to look at the screen, I was able to use the program's voice directions for a satisfactory experience. You'll be prompted well ahead of time with clear and concise directions. Another option: Have a second person watch the screen to help direct the turns. Or you could purchase a dashboard mount for your iPad.
The app has a wealth of features and settings, including the ability to enter multiple stops within a single trip. You can manually enter a street address or pull the information from a contact in the iPad's address book. There are single-view and dual-view options with either a 3D or 2D map. And the supported live services include local weather, traffic, and fuel prices.
All this costs just $29.99. That's a one-time fee that provides you with monthly map improvements and quarterly full-map updates for the U.S. and Canada. So what's the downside?
Because CoPilot Live HD offers so many features, it can be difficult to maneuver (you may need a copilot for your CoPilot). The interface doesn't help, as it isn't logically arranged. Case in point, I found a cool feature where you could demo a trial run through a programmed trip, but I haven't used it since, because I couldn't find it again.
That may be nitpicking for a turn-by-turn app that costs only $29.99. CoPilot Live HD is an incredible bargain that requires a little extra effort to figure out how to get from here to there. All in all, that's not a bad trade-off.
Google+