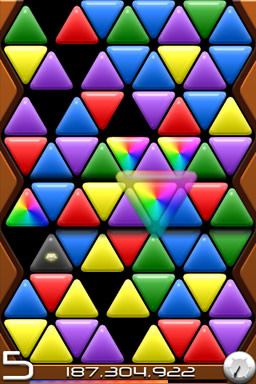 Apple's iPhone and iPod Touch devices are rapidly becoming the premiere portable platform for casual games. The hardware is capable of supporting relatively fast 3-D graphics, and the iTunes store lets you easily browse, purchase, and download more than 10,000 applications. Many are free or offered in no-cost trial versions.
One of the best games from 2008 is Trism. As in Tetris and Bejeweled, you position compatible items next to each other in order to remove those items from the grid. This is the kind of game you learn in a few minutes, but spend hours trying to perfect.
Trism moves beyond its predecessors by incorporating the iPhone/iPod's touch and accelerometer functions. You move the rows by touching and sliding them, and you control the direction the rows will slide by rotating the iPhone or iPod.
That may sound as though there's too much to keep up with. Fortunately, the gameplay feels intuitive. By tilting the device, you more easily see potential color combinations. You earn extra points and rewards when you match four or more adjacent triangles, rather than the minimal three.
The game saves your place if you need to exit for a break or answer a phone call, making it ideal for when you have only a minute or two to spare.
If you have the iTunes software on your computer, this link should automagically take you to the Trism page in the iTunes Store.
Google+