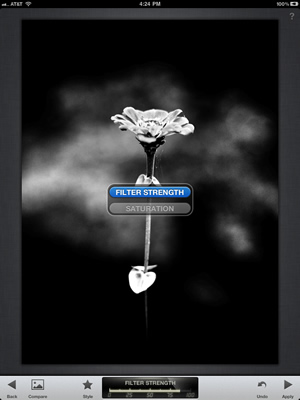 I'm a big fan of Nik Software's plug-ins for Adobe Lightroom. In fact, I use Silver Efex Pro 2.0 for most of my black-and-white conversions. When the company announced it was releasing a $4.99 photo-editing app for the iPad, my first reaction was: How good can it be, if it's only $4.99?
Well, Snapseed for the iPad is very good. Most importantly, it's intuitive enough for almost anyone who wants to edit, crop, or spruce up photos. With many of the effects, you simply swipe your finger across the photo to see variations in how the effect would be applied. The effects are non-destructive, so you can easily back out of an effect and revert to the original image.
Along with the effects, Snapseed has a generous selection of editing tools, including an auto correct option (which works surprisingly well); crop, straighten, and rotate tools (no, you can't rotate the iPad to control the photo-edit rotation); a center focus tool (varying the midpoint and size of the focus); and a selection of "organic frames" (you can cycle through frames with smooth or rough edges and adjust both the frame width and frame offset).
With many of the effects and tools, you can select specific areas of the image using the same U Point technology that's found in Nik Software's higher-priced plug-ins. Placing a U Point onto an iPad image couldn't be simpler. Just press the spot with your finger.
My only complaint — and it's a minor one — is that there's no way to zoom-in to your image to see how the changes would look at the pixel level. It could great if you could toggle the image to a full 100-percent view, to examine what you've done more closely, before you commit to the alteration.
Snapseed shows that there could be a bright future for touch-based photo-editing apps. It's powerful and fun to use. And did I mention it costs only $4.99?
Google+