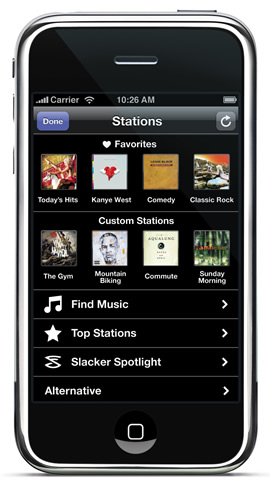 You may have tried some Internet radio services and decided they aren't worth the trouble. That's what I thought until I encountered Slacker.
At CES, I spoke with a Slacker representative at the RIM (Research in Motion) booth. I learned the streaming service now supports the BlackBerry, iPhone, and iPod Touch, as well as the company's own Slacker G2 handheld device. You can also stream the radio stations directly from slacker.com.
These aren't traditional broadcast radio stations. You can choose from more than 100 pre-programmed genre stations or create your own stations by building playlists based on your favorite artists. Slacker has the legal rights to millions of songs, and the audio quality is very good.
You can use Slacker for free, though you'll be limited in how many times you can skip past a song you don't like, and you won't be able to customize a station down to one artist. You'll also have to listen to the occasional commercial (every five songs when I tried it). Alternatively, you can pay $3.99 a month and have unlimited skips, unlimited song requests, and no ads.
Slacker's BlackBerry application has a significant advantage over the iPhone/iPod application. The company worked with RIM to allow the BlackBerry to cache stations to the SD memory card. You can store songs on the card and listen to them later when you don't have a cellular signal. That could be handy when you're flying on a commercial airline.
Google+