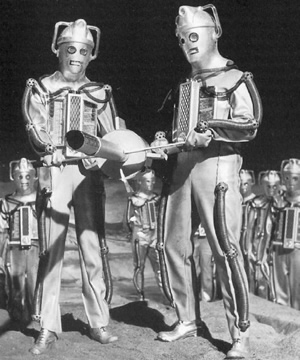 I have a fondness for the clunky, analog sounds of vintage sci-fi films. Not the sophisticated soundscapes of recent blockbuster movies, but the low-budget, let's-see-what-works audio from the 1950s and 1960s.
Remember the room-sized computers that hum at alternating frequencies? The hum was offset by the whirring of the computers' storage reels, which periodically spin and stop.
Or the sputter and whine of the hero's ray gun? Surprisingly, it was almost identical to the alien's own weapon, except for a higher pitched sound and contrasting color for the laser beam.
I used a digital synthesizer to recreate some of the types of sounds that are associated with this genre. I then converted those sounds into files that you can use on your mobile device. You might use them as ringtones, alerts, notifications, or alarm tones. They range in length from 3 to 16 seconds.
With everyone else trying to be contemporary with ringtones from the latest blockbuster, you can go the other way with retro sci-fi.
MP3-Compatible Sci-Fi Ringtones
If your mobile phone supports MP3 files, you could try these MP3 ringtones. They recreate the mechanical and electronic sounds of a vintage sci-fi movie.
Note: Click on the gray "play" icon to preview a ringtone.
Sci-Fi #1
Sci-Fi #2
Sci-Fi #3
Sci-Fi #4
Sci-Fi #5
Sci-Fi #6
Sci-Fi #7
Sci-Fi #8
Sci-Fi #9
Sci-Fi #10
Sci-Fi #11
Sci-Fi #12
Sci-Fi #13
Sci-Fi #14
iPhone-Compatible Sci-Fi Ringtones
These are the same as the MP3 ringtones above, except they're in an iPhone compatible format. Your iPhone or iPad can now sound like a vintage sci-fi movie.
Sci-Fi #1
Sci-Fi #2
Sci-Fi #3
Sci-Fi #4
Sci-Fi #5
Sci-Fi #6
Sci-Fi #7
Sci-Fi #8
Sci-Fi #9
Sci-Fi #10
Sci-Fi #11
Sci-Fi #12
Sci-Fi #13
Sci-Fi #14
Google+