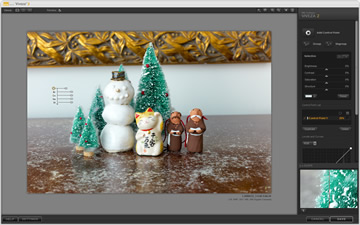 Digital photos give us a great deal of control with our image processing. The problem for most of us? We don't know how to make the color, contrast, detail, or shadow adjustments that can transform a lackluster snapshot into a professional-quality image. Even if we know how to access the tools in Photoshop, Lightroom, or Aperture, we're not sure how to isolate the effects to a specific part of the image.
If that sounds all-too familiar, you might give Nik Software's Viveza 2 a test drive. You can install it in Photoshop, Lightroom, or Aperture for simple, yet precise, color adjustments. The product began shipping last week, though I've been using a beta version for the past two months. Where similar plug-ins or standalone programs tend to give a unnatural look to your processed images, Vivena 2 can be subtle, as well as powerful.
You can use the built-in filter controls to apply the tools throughout the image. Or you can use the control point system to target the tools to a specific region or range of colors. Need to darken the blue sky, without darkening the green grass below? You can do that easily in just a few seconds. Need to brighten the bride's face and add detail to her hair, without altering either the groom or the background? You can do that, too.
I now apply Viveza 2 to almost all my color photos. Sometimes I end up keeping the previous version, but more times than not, it's the Viveza 2 enhanced version that ends up being the keeper.