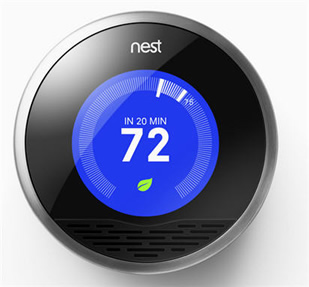 It's a hot, new product that's completely sold out for several months. The man who conceived the product was largely responsible for the design of the iPod. And just about every review of the product has been wildly positive.
Sounds great… except it's a thermostat. That's right. One of the most innovative of the current crop of consumer products is a rethink of the lowly wall-mounted thermostat.
The Nest Learning Thermostat is the brainchild of Tony Fadell, who created the iPod and spearheaded the original iPhone through its production process. With a team of former iPod and iPhone engineers, he has developed an intelligent thermostat that learns which temperatures you prefer and at what times you prefer to change them.
Modeled after the iconic Honeywell circular thermostat, the Nest is simple to operate. Turn the ring clockwise to lower the temperature. Or turn it counterclockwise to raise the temperature. Yet behind the familiar circular shell is a sophisticated array of sensors that measure temperature, humidity, light, and activity.
You connect to the Nest's features over Wi-Fi using your computer, phone, or tablet. It's designed to learn your habits automatically, so you can save money on your energy bills. If you turn the temperature down two nights in a row, the Nest will turn itself down for you on the third night. And when you're away from your home, it will switch over to a more energy-efficient setting. It even tracks your energy consumption so that you can see how much money you've saved.
I haven't had a chance to install a Nest in my home, but I hope to give it a try as soon as possible.
Google+