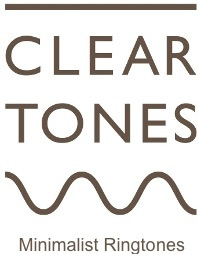 Wouldn't it be great if you could have ringtones that are simple and relaxing, instead of the jarring sounds found on most mobile phones?
I've been searching for the ideal ringtones and audio notifications for my cell phone and tablet — and I think my search may be over. Imagine a bell-like ringtone that is both short and pleasant. Or a notification that's a high-quality recording of an unobtrusive chime. Sound good? These are just two of the inspired aural creations at Cleartones.net.
The Cleartone site currently offers two sets of ringtones and notifications. The first set (titled Cleartones Classic) features tones, dings, and chirps that are likely to be the least annoying synthetic sounds you've ever heard on an electronic device. The second set (titled Cleartones Organic) is similar in approach, but was created entirely with acoustic instruments. The instruments include metal bells, chimes, glass bowls, woodblocks, and marimba.
Of course, you can mix and match the sets within your phone or tablet. You might have one slightly more aggressive configuration for use when traveling and another more soothing configuration when relaxing at home.
The prices are quite reasonable given the number and variety of sounds. The sets include audio files that are compatible with both iOS and Android devices. You can also preview some of the tones to determine if they might be a good fit.
Next to leaving your phone on vibrate, Cleartones are the closest thing to silence. Highly recommended.
Google+